Miami Marlins 2016: End of the Season Grades, Analysis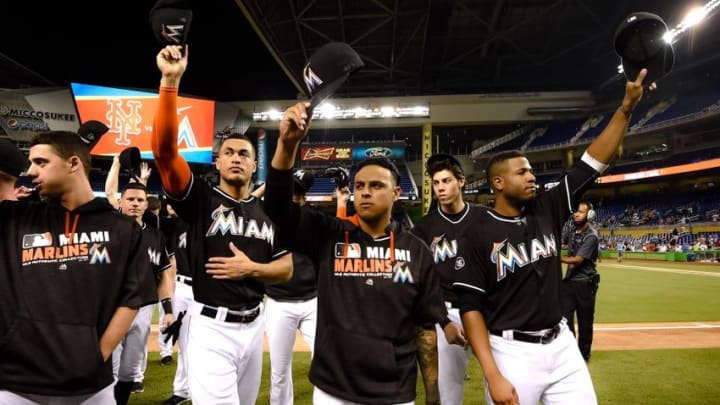 The Miami Marlins bid adieu to 2016. How'd they do? Mandatory Credit: Steve Mitchell-USA TODAY Sports /
Three outta four had a solid year. Mandatory Credit: Steve Mitchell-USA TODAY Sports /
Christian Yelich – A+
The best player for the Marlins this season was Christian Yelich. Yelich, which was recognized as the team's Most Valuable Player this season, set a career high in multiple offensive categories. Yelich batted .298 with a career high 21 homers and 98 rbi. It's very possible that Yelich will be the team's starting center fielder in 2017 with Ozuna moving over to left field. Yelich is developing into a superstar before the eyes of baseball fans across the major leagues.
Marcell Ozuna – B-
The team's best performer during the first half of the season was Marcell Ozuna. Ozuna was an All Star for the first time in his career this season, and was chosen to start that game because of an injury to another player. He struggled in the offensive end throughout the second half of the season, but still batted .266 with 23 homeruns and 76 rbi. There aren't many centerfielders throughout the league with those type of power numbers which is something for the Marlins' organization to be excited about for the future.
Giancarlo Stanton struggled with his consistency on the offensive end this year. He was also not able to play a full season again because of a groin injury. In 119 games played this season Stanton hit just .240 but did lead the team with 27 homeruns. He also had 74 rbi. A lot of people will see those power numbers and say that his season wasn't bad at all, but yes there is a lot more that is expected of Stanton. Stanton is capable of leading the league in homeruns and rbi each season. He is capable of being the league MVP as well. If the Marlins want to secure a playoff spot in 2017, Giancarlo Stanton needs to stay healthy and have a monster year which he is very capable of. Stanton is the best player on the team and one of the best players in all of baseball and he needs to play like it.
What Ichiro did at age 42 is nothing short of amazing. The way he performed this season, whether it was in a pinch hitting role or spot starting in the outfield, he did a great job. His defense is still above average, and he still has good speed. Ichiro finished the season hitting .291 with 1 homerun and 22 rbi. Oh yeah, and he also achieved history by getting his 3000th hit. Ichiro will be back next season with the Fish, and because of that Marlins fans will have the opportunity to continue to watch greatness.