Miami Marlins 2016: End of the Season Grades, Analysis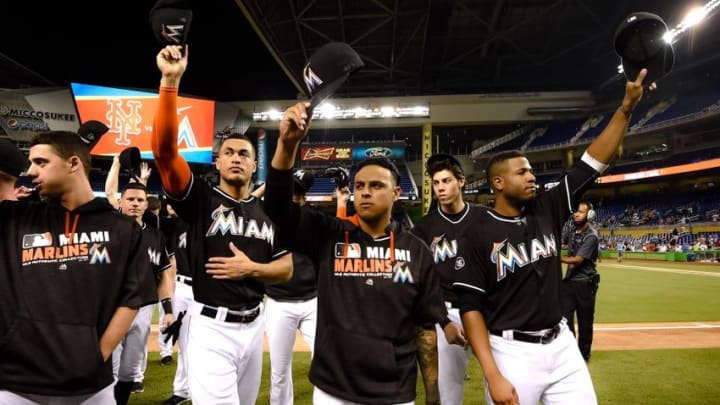 The Miami Marlins bid adieu to 2016. How'd they do? Mandatory Credit: Steve Mitchell-USA TODAY Sports /
Marlins fans will never forget. Mandatory Credit: Steve Mitchell-USA TODAY Sports /
Jose Fernandez: A+
The saddest story in baseball this season was the passing of superstar ace Jose Fernandez. Fernandez, who was loved by many was a superstar on and off the field. The humble Cuban pitcher had one of his best seasons in his young career this season. Fernandez won a career high 16 games while only losing 8 games. He was among the league leaders in striking out opposing hitters with 253 in 182.1 innings pitched this season with an earned run average of 2.86. His big smile lit up the ballpark. According to his teammates and everyone in the Marlins' organization, Fernandez was a great teammate. He would talk to everyone in the dugout. He would cheer on all of his teammates even in the games that he wasn't pitching. He loved the game of baseball and it showed every time that he would take the mound. Jose was a special one of a kind talent. He will forever be missed.
Tom Koehler: C
Koehler is a solid number 5 starter in the major leagues. He's an innings eater and is considered a bulldog on the mound by many. When Koehler starts, you can usually pencil him in for 5 to 6 innings and he helps the bullpen out by not having them throw many innings in his starts. He is inconsistent at times which is the cause of his career ERA being 4.16. This season Koehler had 9 wins and 13 losses with an era of 4.33. He needs to learn how to limit the damage when the opposing offense is getting to him. Koehler at times, tends to have a streak of starts where he pitches 4 to 5 solid innings and then one bad inning. That is what Koehler needs to try to correct. Other than that, Koehler is a solid number 5 starter in the league.
Talk about a disappointment, and that is Andrew Cashner. Cashner was acquired by the Fish at the trade deadline to come in and give the team another good starter and he failed to do that. Cashner was awful with the Marlins and was basically a below average pitcher all season long. Cashner had 5 wins and 11 losses with a brutal era of 5.25. At the end of the season, Cashner who is a free agent this off-season, mentioned that being able to have a beard might have input on whether he resigns with the Marlins again or not. I don't think Cashner needs to worry about shaving his beard, because I don't think the Marlins' organization wants to offer him a contract extension anyhow. He should worry more about becoming a better pitcher and less about having a beard.
Adam Conley: B-
Conley was solid this year as a starter. But an injury to his finger cost him a chance to achieve more success throughout the season. Before injuring his finger, Conley was the Marlins' second best starting pitcher. He finished the season with 8 wins and 6 losses with an era of 3.85. In 133.1 innings pitched, Conley struck out 124 opposing batters. It would have been good to see how Conley would've performed if he would've not gotten injured. But Conley is a solid left handed pitcher who hasn't reached his full potential yet and that is something for the Marlins' organization and their fans to be excited about.