MLB All-Star Game: Miami Marlins All-Time All-Star 3B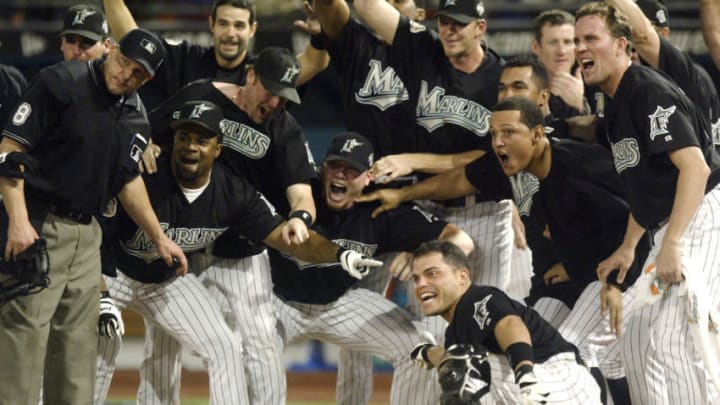 MIAMI - OCTOBER 22: The Florida Marlins await Alex Gonzalez /
MIAMI – OCTOBER 22: The Florida Marlins await Alex Gonzalez /
The All-Time All-Star series moves on to third base, which means it's time to talk about the best player to ever wear a Marlins uniform.
The Miami Marlins All-Time All-Star third baseman is in this photograph. That much I can assure you.
However, despite being one of my five favorite Miami Marlins of all-time, I can also assure you that it's not Mike Lowell. That honor goes to Miguel Cabrera, easily the greatest player in franchise history.
Blasphemy you say? Alright, it kind of is. If Scott Rolen had just been considerate enough to play in the American League, or even just for an NL club less popular than the Cardinals, Lowell wins multiple Gold Glove awards.
Third base is without a doubt the most competitive position on this list. Of the three eligible players, two found their way on to the Marlins MLB Franchise Four list back in 2015. That would be Lowell and Gary Sheffield.
The other is Cabrera, who's only on the short list for best player of the 21st century.
All three won a World Series. All three won a Silver Slugger award. Everyone of them spent at least one season leading their team in home runs, RBIs, or both. They share nine All-Star appearances between them. Needless to say, the resumes are quite impressive.
Cabrera outshines them all though. We knew he would from his first season in the big leagues. The Miami Herald offers up some great video proof of that, if you want to check out the latest George Richards article. When you stare down Roger Clemens as a rookie after he's brushed you off the plate, only to clobber a homer to the opposite field, it's pretty obvious you've got a chance to be special.
Four consecutive All-Star appearances later, any doubts of that had been swept away. Power, RBI's, average…Miggy did it all in a way Marlins fans had never seen before. Dan Uggla and Giancarlo Stanton would soon surpass the power output in franchise lore, but Cabrera sets the offensive standard. The textbook definition of a complete hitter.
Cabrera as a Marlins All-Star
The coolest thing about his All-Star appearances as a Marlin? Turns out Gary Sheffield is his equal in one respect. Together, the pair are the only Miami Marlins to make it to the All-Star Game at two different positions.  
Even more bizarrely, they both did it at the same two positions: outfield and third base.
After two years of making it as an outfielder, Cabrera returned to third when Lowell was traded to Boston. The selections didn't stop with the position switch, but unfortunately, Cabrera was never voted in as a starter during his time with the Marlins.
But when the games counted for Miami though, no one did it better than Miguel.