MLB All-Star Game: Miami Marlins All-Time All-Star Outfield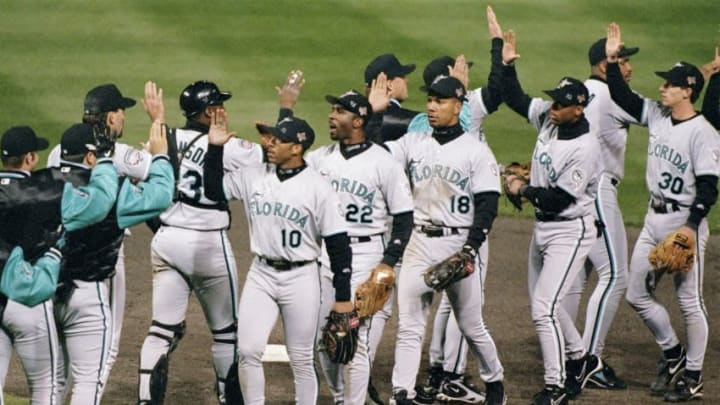 23 Oct 1997: Outfielder Gary Sheffield of the Florida Marlins (center) greets other players during the fifth game of the World Series against the Cleveland Indians at Jacobs Field in Cleveland, Ohio. The Marlins won the game 8-7. Mandatory Credit: Jed Jacobsohn /Allsport /
21 Oct 1997: Third Baseman Matt Williams of the Cleveland Indians (left) stands dejected with outfielder Gary Sheffield of the Florida Marlins rounding the bases during the third game of the World Series at Jacobs Field in Cleveland, Ohio. The Marlins won the game 14-11. Mandatory Credit: Doug Pensinger /Allsport /
Marlins All-Time All-Star Outfielder No. 1: Gary Sheffield
This one was easy. Many Miami Marlins fans that have been there since the beginning will still tell you that Gary Sheffield is their favorite Marlin of all-time.
He's on the Franchise Four, has spent more time patrolling the outfield as a starter than any other Marlin besides Stanton, and helped deliver Miami's first World Championship.
Basically, he was our first baseball star. If you want to argue I should be talking about Jeff Conine here, I'd remind you he slowly and steadily earned that Mr. Marlin moniker. Sheffield arrived as an All-Star, and had already largely earned his second appearance when he came over from San Diego in 1993.
We gave up a future Hall of Famer to get him, and got back a Hall of Fame caliber player in return.
It might not have been the best trade in franchise history. But in hindsight, it was probably the most balanced.
Sheff still sits near the top on plenty of all-time lists for Miami, and if it wasn't for the 1994 Strike, he would undoubtedly be positioned higher still. A fact Hall of Fame voters would do well to remember.
He did miss some time due to injury in those already shortened seasons as well, but it's fun to wonder how many more home runs he would have hit had he had the opportunity.
In ASG action, he acquitted himself admirably as far as Marlins All-Stars go.
Best single season All-Star: 1996 Gary Sheffield 
Twenty-one years ago, Gary Sheffield set a new Miami Marlins franchise record for home runs in a single season.
Twenty-one years later, Marlins fans are still waiting for someone to finally break it.
To be fair, 42 HRs is a daunting hurdle to overcome. Few players ever surpass it in their careers. Sheffield himself only beat it once, and he's a 500 HR Club member. Curiously enough, if you add up his 1995 and 1997 totals, you'd find yourself five short of that crazy 1996 number.
Now, this could well be the season that streak of failed attempts finally ends. Giancarlo Stanton came oh so close in 2012 and 2014, really the only Marlin to ever mount a serious challenge. What makes 2017 unique is that three Marlins are mathematically alive to achieve the feat.
Even if another late season injury, or a late July trade, eliminates a contender, we're still alive to see some history.
Until that happens, Sheffield's 1996 remains the gold standard. And even if those 42 HRs are bested, the odds are pretty good his .314 BA and 120 RBIs will still hold up. When it comes to that kind of team Triple Crown dominance from the outfield, Miami Marlins fans have only ever seen it from No. 10 in your programs.