MLB All-Star Game: Miami Marlins All-Time All-Star Outfield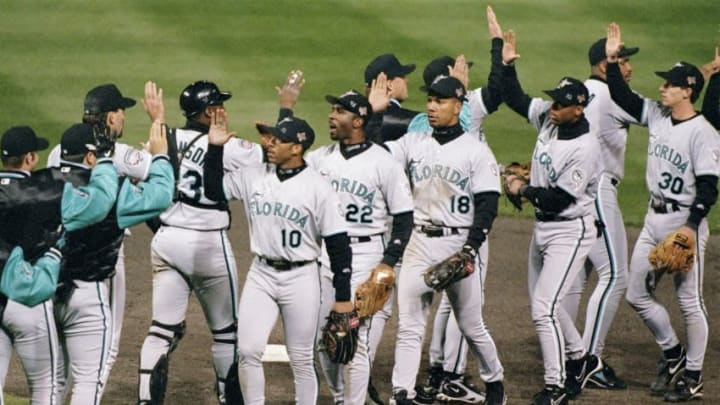 23 Oct 1997: Outfielder Gary Sheffield of the Florida Marlins (center) greets other players during the fifth game of the World Series against the Cleveland Indians at Jacobs Field in Cleveland, Ohio. The Marlins won the game 8-7. Mandatory Credit: Jed Jacobsohn /Allsport /
CHICAGO – OCTOBER 15: Moises Alou /
Marlins All-Time All-Star Outfielder No. 2: Moises Alou
When many of our younger Marlin Maniacs think of this guy, they probably think of a very different Miami Marlins playoff run than the one that got him on the list.
For it was Moises Alou that had a front row seat when Steve Bartman famously reached out and extended Luis Castillo's at bat in Game 6 of the 2003 NLCS. That alone is probably worth an honorable mention- had Alou caught that ball, we're probably a one championship club.
Really though, he earned it all with one of the finest single seasons ever produced by a Miami Marlins outfielder. In fact, he earned it in his only season here. When it comes to productive one-year rentals, only Ivan Rodriguez is Alou's superior.
Unlike Rodriguez though, Alou was recognized for his All-Star efforts. Cracking 23 HRs might not have been a Marlins novelty, but those 115 RBI were the second highest total in team history to that point. And just like Rodriguez, it seemed that everyone of them was instrumental.
Jeff Conine might have been Mr. Marlin, but in 1997, Moises Alou was Mr. Clutch. So much so, he even finished 10th in the MVP voting that season.
Hey, sometimes something positive for the Marlins comes out of Montreal.
Alou as a Marlins All-Star 
Obviously, his best single-season was his only Marlins season. So no need to gush further on 1997. So let's talk All-Star Game.
As for his post-Marlins career, Alou is in no danger of being accused of submitting his best season as a Marlin. Over his next three campaigns, his "worst" season saw him bat .331 with 27 HRs and 108 RBIs. In fact, 1997 probably doesn't make the list of his Top 5 seasons.
Except, of course, for the fact he won his one and only championship that year.