Florida Marlins History: Appreciating Knuckleballer Charlie Hough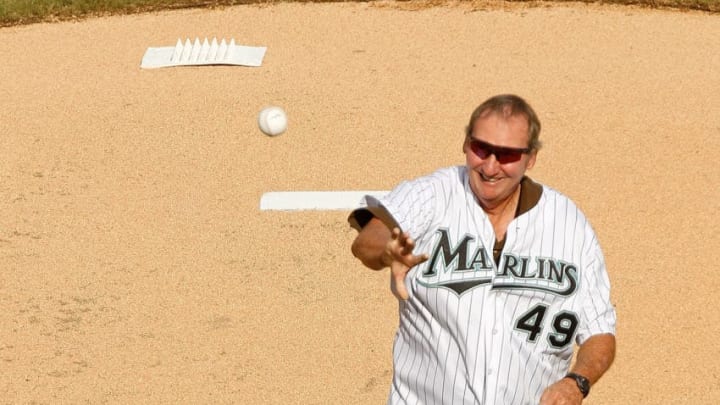 MIAMI GARDENS, FL - SEPTEMBER 28: Former Marlin Charlie Hough throws out the first pitch during the last game at Sun Life Stadium between the Florida Marlins and the Washington Nationals on September 28, 2011 in Miami Gardens, Florida. (Photo by Mike Ehrmann/Getty Images) /
On of the first nine players to take the field for the Florida Marlins, and also the first to throw a pitch, Charlie Hough is celebrating his 72nd birthday.
A Honolulu, HA native, Charlie Hough was the only Hawaiian to play for the Marlins until last season's Jordan Yamamoto debut. Born on this date in 1948, Hough started the Marlins first ever contest and won it.
A knuckleballer by trade, Hough struck out each of the first two batters he faced that day, April 5th, 1993, Jose Offerman (see video below) and Brett Butler. He went on to pitch six full innings, with four strikeouts, six hits allowed, two walks issued, and three Dodger runs on the board. Fortunately for Hough, the Marlins scored five off Dodger starter Orel Hershiser, on 10 hits and a walk. Despite that performance, Hough was at his best for the Marlins on August 3rd, when he took home a victory in a 1-0 win over the St. Louis Cardinals. Hough lasted eight innings, walking one and keeping the Birds off the board on six hits, all singles. He also struck out five.
Hough, whose career started in 1970 with the Dodgers, was entering his 24th major league season in 1993. The oldest player in the majors was starting for the majors newest team. He managed not to put too much of a drag on the Marlins, scoring a 100 ERA+ indicating a league average pitcher. He was 9-16 with a 4.27 ERA over a team-best 34 starts. He also led the club with 126 strikeouts and a rotation-best 1.336 WHIP, ending the year with 2.0 WAR.
More from Marlins History
Through Hough's first 23 seasons of major-league ball, he had racked up a 202-191 record and a 3.67 ERA, along with a 1.293 WHIP and 2,171 K's in 3483 1/3 innings between the Dodgers, the Texas Rangers, and the Chicago White Sox. After totaling 3.0 WAR over his 11 seasons with L.A., Hough had the best seasons of his professional career with the Rangers. He led the majors with 17 complete games in 1984, made his only career All Star team appearance in 1986, and led the majors with 40 starts in 1987, totaling 32.6 WAR over 11 seasons. In fact, his seven "peak" seasons happened during a seven-year span with Texas. From 1982 through 1988, Hough was 111-95 with a 3.58 ERA, a 1.250 WHIP, and a 116 ERA+. His 28.2 WAR over those seven seasons was an average of 4.0 WAR a year. Outside of those seven years, Hough totaled 10.8 WAR over 18 seasons, a 0.7 WAR per year clip.
With little left to prove, Hough signed with the Marlins for two years and $1.6 million. His first season 2.0 WAR figure was the best since his seven-season heyday with the Rangers. In his second season, he produced a far more pedestrian stat line. 5-9 with a 5.15 ERA, Hough took 21 turns in the rotation during a lockout-shortened 1994. Still, that first strikeout will last forever, even if it was more than a little bit outside.