Miami Marlins Prospect Watch: Spotlight on Jorge Guzman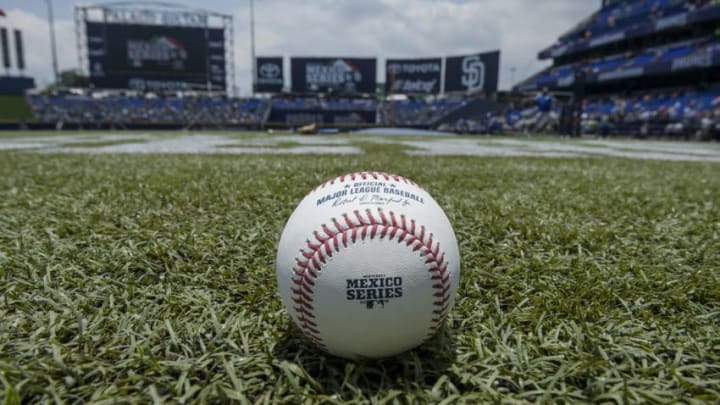 MONTERREY, MEXICO - MAY 06: Detail of the official game ball prior the MLB game between the San Diego Padres and the Los Angeles Dodgers at Estadio de Beisbol Monterrey on May 6, 2018 in Monterrey, Mexico. (Photo by Azael Rodriguez/Getty Images) /
Here at Marlin Maniac, we'll be bringing you daily prospect reports until we run out of prospects, then we'll start again.
Today's prospect, right-hander Jorge Guzman, is a 22-year-old fireballer out of the Dominican Republic. Most notable about Guzman, of course, is his 80 grade fastball. Usually clocked between 97 and 103 MPH, the Houston Astros signed him out of Las Matas de Santa Cruz in 2014. The Miami Marlins are his third organization.
A Professional
Guzman played with three of Houston's rookie affiliates in 2015, racking up 29 strikeouts in 55 innings while he learned the professional strikezone. He also walked 30 batters in that time, pitched to a 5.04 ERA over 17 games, and coughed up a 1.68 WHIP. Not very impressive, to be sure, but Houston remained enamored of Guzman's ceiling, as a possible #3-ish starter in the majors. He would remain at the rookie level in 2016.
Between two rookie levels in 2016, Guzman polished off 54 batters by way of strikeout in just 39 1/3 innings. He walked 17 and earned a 4.05 ERA and a much improved 1.15 WHIP. Most impressive was his time with the Gulf Coast Astros, during which he allowed only four hits in 17 innings. After the 2016 campaign, the Astros traded Guzman with Albert Abreu to the New York Yankees for Brian McCann.
Moving On
Promoted to the low-A Staten Island Yankees in 2017, Guzman whiffed 88 batters in just 66 2/3 innings, going 5-3 with a 2.29 ERA and a 1.03 WHIP in 13 rotation starts. Although highly desirable to the parent club, the Yankees sent him to the Miami Marlins on December 11th, with Jose Devers and Starlin Castro for Giancarlo Stanton.
Miami Marlins Acquire Guzman
More from Marlins Prospects
After skipping the middle-A level entirely, Guzman has settled in with the Florida State League Jupiter Hammerheads. Opponents are batting .220 against him, and have struck out 73 time in 70 innings. His walk rate remains alarmingly high, with 41 free passes issued – or 5.2K/9. He's also collected a 1.39 WHIP while somehow remaining winless in 2018. He's currently 0-7 with a 3.21 ERA.
Last night, in a 4-1 Hammerheads loss to the Fort Myers Miracle, Guzman struck out nine batters in five innings, but also allowed two earned runs to take another loss. He left the game while trailing 2-1.
In addition to his fastball, Guzman is armed with a power slider that grades out a 55. He also has an average (45) changeup in his arsenal. Guzman is currently ranked as Miami's #3 overall prospect.
Regardless of how Guzman finishes this season, it's clear that he should start next year with the Jacksonville Jumbo Shrimp. If he finds a way to get his walk rate under control, he should be a Spring Training invitation in 2019, with a chance of making the rotation in 2020. It's also possible that the Miami Marlins designate him as a closer.
Next: Spotlight on Tristan Pompey
A big hat-tip to the MLB prospect pipeline for their invaluable insight into Guzman's potential. Thanks for reading. Like us on Facebook, follow us on Twitter, and subscribe to our daily newsletter to keep up with the Miami Marlins.