What the Miami Marlins Learned from the DSL Marlins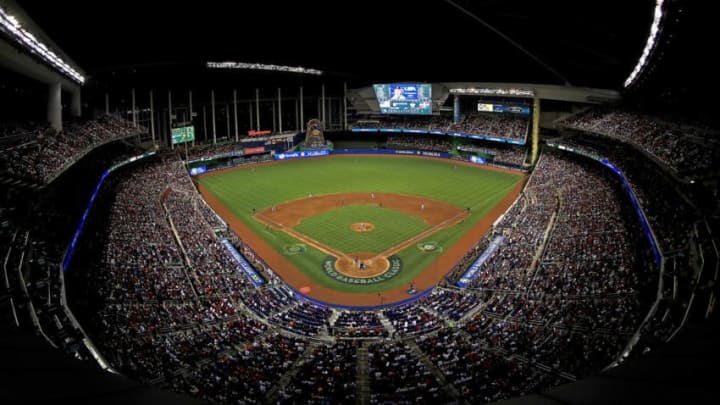 MIAMI, FL - MARCH 11: A general view of Miami Marlins Stadium during a Pool C game of the 2017 World Baseball Classic between the United States and the Dominican Republic on March 11, 2017 in Miami, Florida. (Photo by Mike Ehrmann/Getty Images) /
The Miami Marlins minor league feeder system runs seven teams deep. At the bottom, the Dominican Summer League Marlins play, in sunny Boca Chica, Dominican Republic at Academia de Prospect Complex.
Manager Raymond Nunez has his work cut out for him, with the youngest for-pay ballplayers in the world. Some of them clocking in at just 16-years-of-age. He coached the club to a 42-30 record, 9.5 games behind the DSL Rays1 in the DSL Northwest Division. That's the 10th best winning percentage in the 44 team league. Here's six of his players that could make an impact on the Miami Marlins over the next decade.
Montero, a second baseman, led the club in average and OBP, slashing .312/.430/.358 in 64 games. No home runs to speak of, and only eight extra base hits in total, including six doubles and two triples. He led the team with 19 multi-hit games, and also had six three-hit affairs. In an 11-game hit streak from June 16th through 29th, he went 19-for-46 with eight stolen bases and 10 runs scored. He's not afraid to run, but could perhaps be a touch more selective. The Bani, DR native stole 30 bases and was caught 18 times.
Defensively, Montero has appeared this season mostly at second base, but has also started 10 times at first base and three times at the hot corner. In 405 1/3 career innings in the field, three of his 21 errors came in the three games he played at third base, so that's probably not a natural future fit for him.
Montero's hit tool is his best aspect. He will probably make the jump to the GCL Marlins for the 2019 season.
Earliest arrival with the Miami Marlins: 2022
Palacios played in his second season for the DSL Marlins, leading the entire league with an 8-0 record and with a 0.597 WHIP. He ranked second with a 0.85 ERA, and struck out 62 while issuing a grand total of four walks. Opponents slashed .155/.173/.183 in 228 plate appearances. Keep in mind also that he accomplished this with a June BAbip against of .313.
After June 20th, Palacios was even better. Over his final 50 innings of the season, he struck out 50 and allowed one earned run on 21 hits. That's a 0.18 ERA, an opposing slashline of .125/.140/.143, and a 0.480 WHIP.
Palacios, a left-handed starter, is still just 18-years-old, hasn't lost a game in two seasons, and should start next season with the Greensboro Grasshoppers. Although he's still a non-ranked prospect, he's making some noise. The Bani, DR native should probably be a top-15 name in the Marlins system.
Earliest arrival with the Miami Marlins: 2021
Sosa is a 19-year-old center fielder from San Pedro de Macoris, and is also a two-year veteran of the DSL Marlins. In 58 games this season, he slashed .279/.370/.401 with a team-leading five homers and 22 RBI. He drew 23 walks and struck out 49 times, stealing 15-of-26 bases. He collected 14 multi-hit games, including three three-hit games. In the field, Sosa mostly played in center field, although he got a lot of time in left and a little in right. He totaled four errors in 100 chances overall for a .960 fPCT.
Although limited, Sosa's power tool is the best on the team, and could mature into a 20 home run threat in a number of years. He should start next season either with the GCL Marlins or the Batavia Muckdogs.
Earliest arrival with the Miami Marlins: 2022
Jesus Sanchez
Sanchez, at 19-years-old, ranks second on the club with a 1.47 ERA in 30 2/3 innings. Over 17 appearances, he's collected a 0.978 WHIP and allowed just 18 hits, striking out 28 and walking 12. He also finished with a 2-1 record and a pair of saves. Sanchez allowed more than one run on only one occasion, and surrendered a total of five earned runs all season.
A native of Chepo, Panama, Sanchez held opposing batters to a .175/.265/.272 slashline over 117 plate appearances. This was his third season with the DSL Marlins. At a minimum, he should start next season with the Batavia Muckdogs.
Earliest arrival with the Miami Marlins: 2023
Rosario appeared in a club-lead-tying 67 games. A shortstop by trade, Rosario slashed .257/.315/.373 with four home runs and a team-leading 42 RBI. He also stole 26 bases in 29 tries, so he's apparently got the whole base-stealing selection process to a science. His 19 extra-base hits tied for the team lead, and he also had four three-hit games. In an 11-game hit streak from July 7th through July 20th, he was 19-for-40 with 11 RBI and five stolen bases.
As I said, Rosario is listed as a shortstop, but he played 295 1/3 innings in center field, 135 innings at third base, and 61 at second in addition to his 52 at shortstop. His .846 fPCT at shortstop is probably a contributing factor in his odyssey around the diamond. He only made one error in 93 chances in center.
Rosario, who turned 18 last month, also led the team with 63 strikeouts, and could learn a little more about pitch selection. He was still the most productive run producing member of the team, ranking second with 42 runs scored. The Peravia, DR native will likely start next season with the GCL Marlins.
Earliest arrival with the Miami Marlins: 2022
More from Marlins Prospects
Lara, a right-handed starting pitcher from Santo Domingo Centro, DR, has just completed his third season for the DSL Marlins. In 57 2/3 innings, he struck out 58 and walked 17, racking up a 2-3 record with a 2.50 ERA.
Through Lara's 14 appearances, opponents put up a .202/.280/.254 slashline in 236 plate appearances. Although nine of Lara's games were starts, he also collected a save late in the season. Lara will probably start next year with the GCL Marlins.
Earliest arrival with the Miami Marlins: 2024
Without all the bells and whistles, a professional nine-inning baseball game can actually be played in less than three hours. Significantly less, in fact. In the DSL Marlins season finale, a 1-0 victory over the DSL Braves, the two clubs played a full game in just one hour and 45 minutes.
Follow us on Twitter, like us on Facebook, and subscribe to our daily newsletter to keep up with the Miami Marlins.