Miami Marlins Season in Review: Elkin Alcala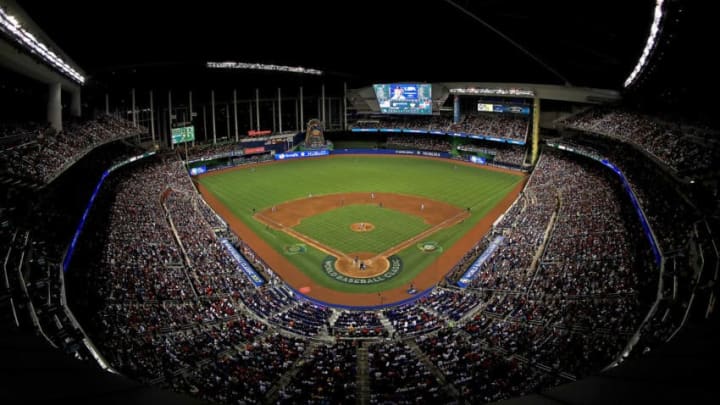 MIAMI, FL - MARCH 11: A general view of Miami Marlins Stadium during a Pool C game of the 2017 World Baseball Classic between the United States and the Dominican Republic on March 11, 2017 in Miami, Florida. (Photo by Mike Ehrmann/Getty Images) /
Throughout the 2018/2019 offseason, Marlin Maniac will devote one article each for every player who appeared in the Miami Marlins system for the 2018 season. Every. Single. Player. This is Part 103…of 286. Stay tuned.
Elkin Enrique Alcala is a 5'11", 175 lb. right-handed pitcher from Cartagena, Columbia. Born on August 2nd, 1997, the Miami Marlins signed him through free agency on October 11th 2015. You can follow him on Twitter @Elkin_Ac.
After he signed, Alcala made his professional debut for the DSL Marlins, in the rookie-level Dominican Summer League for the 2016 season. He started four games, and totaled 19 innings pitched. Over that time, he was 1-1 with a 4.74 ERA, a 0.95 WHIP, and a .229 opposing batting average. Not enough of a sample-size to promote, but enough to take another look in the 2017 campaign.
In 13 relief appearances in 2017 for DSL, Alcala somehow posted a 7-0 record. He allowed 10 hits and struck out 16 in 24 frames. holding opponents to a 0.75 ERA, a 0.58 WHIP, and a .123 opposing batting average. The solid start was impetus for the Miami Marlins to promote Alcala laterally, to the rookie-level GCL Marlins in the Gulf Coast League. Over five more trips out of the bullpen, he was 2-0 with a 2.03 ERA, a .234 opposing batting average, and a 1.05 WHIP. In his final appearance of the season, he struck out two over four shutout innings as the GCL Marlins topped the GCL Nationals, 5-0 in a seven-inning game.
More from Marlins Prospects
In 2018, Alcala joined the short-season-A Batavia Muckdogs, in the New York-Penn League. He came out of the bullpen 21 times, and converted five-of-10 save chances while going 4-2 with a 3.30 ERA. Alcala held opponents to a .277 average and a 1.27 WHIP over 30 innings of work, with 22 strikeouts to his credit. On July 4th, he earned a six-out save, striking out four and allowing only a walk as the Muckdogs topped the Mahoning Valley Scrappers, 4-3.
Alcala hasn't been ranked in Baseball America's list nor the MLB Pipeline. Nonetheless, he's a solid bet to remain in the system for the 2019 campaign, and likely at the single-A level with the South Atlantic League's Greensboro Grasshoppers (or whoever the Miami Marlins choose to affiliate with prior to opening day). Alcala's long-range projection would see him make a play for the Miami Marlins opening day roster out of Spring Training in 2022, provided a continued rise through the minor league feeder system.
Thanks for reading. Like us on Facebook, follow us on Twitter, and subscribe to our daily newsletter to keep up with the Miami Marlins