Miami Marlins Prospect Ricardo Cespedes: 2018 Season Review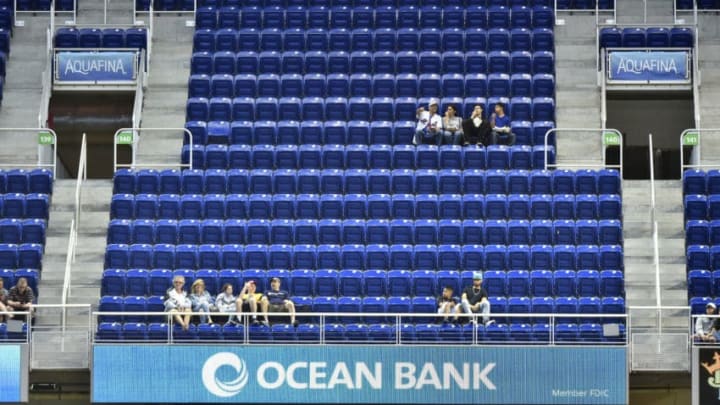 MIAMI, FL - APRIL 11: Fans sitting in the stands during the game between the New York Mets and Miami Marlins at Marlins Park on April 11, 2018 in Miami, Florida. (Photo by Eric Espada/Getty Images) /
Throughout the 2018/2019 offseason, Marlin Maniac will devote one article each for every player who appeared in the Miami Marlins system for the 2018 season. Every. Single. Player. This is Part 132 of 286. For the first 100, click here.
Ricardo Junior Cespedes is a 6'1″, 205 lb. left-handed centerfielder from Bronx, New York. No less than 30 major leaguers have originated from the burrough, including former Miami Marlins pitcher Tom Koehler.
Cespedes was born on August 24th, 1997, and in 2013 was signed as an undrafted free agent by the New York Mets for a $725,000 bonus. He made his professional debut in the rookie-level Dominican Summer League in 2014, splitting the season between the Mets' two DSL affiliates. He totaled a .266/.311/.335 slashline with a .990 fielding percentage in the outfield, mostly in center.
In 2015, Cespedes played with the rookie-level GCL Mets, in the Florida-based Gulf Coast League. In 44 games, he hit .224/.282/.267 with 15 RBI. In the next season, ranked 23rd in the Mets' system (according to baseballamerica.com) he moved to the Mets' fourth minor league rookie-level affiliate, the Kingsport Mets in the Appalachian League. In 56 games, he authored a much improved .322/.356/.379 line, with five outfield errors for a .960 fielding percentage.
2017 would see Cespedes play in 18 games for the short-season-A Brooklyn Cyclones in the New York-Penn League, going 18-for-80 with one homer, 12 RBI, and four walks. He also appeared in five games with the single-A Columbia Fireflies in the South Atlantic League and four back with GCL. On July 28th, the Mets sent Cespedes with Merandy Gonzalez to the Miami Marlins for A.J. Ramos.
The Miami Marlins assigned Cespedes to the Batavia Muckdogs, in the NYPL with the Cyclones. He hit 15-for-79 in 19 contests for Batavia, with a pair of doubles, four RBI, and only one walk.
Cespedes began the 2018 campaign with the Miami Marlins high-A Florida State League affiliate, the Jupiter Hammerheads. In his only game at that level, on June 9th, he batted ninth and went one-for-two in a 2-1, seven-inning victory against the Florida Fire Frogs.
Moved back to the Muckdogs in mid-June, Cespedes hit safely in the first five games of his return engagement, going six-for-18 with a double, a triple, five RBI, and a pair of walks. The Marlins split the difference at that point, sending Cespedes to the affiliate between the Hammerheads and the Muckdogs, the single-A Greensboro Grasshoppers in the South Atlantic League.
More from Marlins Prospects
In 33 games for Greensboro, Cespedes slashed out a .215/.261/.299 line with four doubles, a triple, and one home run. He collected six RBI, stole five bases in five tries, drew six walks and struck out 26 times. On July 6th, he hit a single, drew a walk, and slapped a two-run shot in a 5-4 defeat by the Lakewood Blueclaws. It was one of four two-hit games for Cespedes.
On August 15th, Cespedes was sent back to Batavia one more time. A week later, he hit three singles and a triple, scoring twice and collecting a pair of RBI in a 9-3 victory against the West Virginia Black Bears. Between the three levels, Cespedes hit .229/.275/.313 with 19 RBI in 57 contests. More importantly (at his stage of development), he got 400 innings of outfield work and turned in a .966 fielding percentage.
Cespedes is still rostered as part of the Muckdogs, but is probably bound for the Hammerheads or the single-A Clinton LumberKings, in the Midwest League for the 2019 season. His best-case scenario and longer range projection has him competing for a Miami Marlins roster spot in 2022 Spring Training.
Thanks for reading. Like us on Facebook, follow us on Twitter, and subscribe to our daily newsletter to keep up with the Miami Marlins.