Tyler Kolek: The Miami Marlins First Round Longshot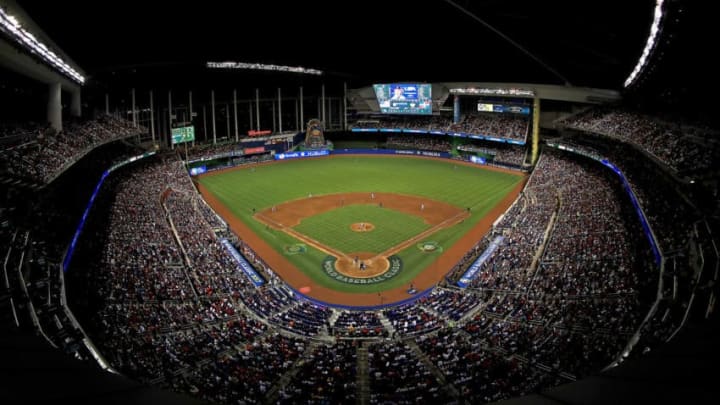 MIAMI, FL - MARCH 11: A general view of Miami Marlins Stadium during a Pool C game of the 2017 World Baseball Classic between the United States and the Dominican Republic on March 11, 2017 in Miami, Florida. (Photo by Mike Ehrmann/Getty Images) /
Throughout the 2018/2019 offseason, Marlin Maniac will devote one article each for every player who appeared in the Miami Marlins system for the 2018 season. Every. Single. Player. This is Part 119 of 286. For the first 100, click here.
Tyler Frank Kolek has had an especially rough go of it. A hard-throwing 6'5″, 260 lb. right-handed pitcher, the Shepherd, Texas native went with the second overall choice of the 2014 draft to the Miami Marlins, out of Shepherd HS. Follow Kolek on Twitter @Tyler_Kolek.
The second overall pick in any season's draft is close to a lock to someday make it to the major leagues. 83 percent have made it in the past 54 seasons. Only five players drafted second overall before Kolek failed to reach the major leagues. The best of the notable group are Reggie Jackson (1966, Oakland Athletics, 74.0 career WAR), Justin Verlander (2004, Detroit Tigers, 63.4 WAR), Will Clark (1985, San Francisco Giants, 56.5 WAR), J.D. Drew (1997, Philadelphia Phillies, 44.9), Josh Beckett (1999, Florida Marlins, 35.7), Kris Bryant (2013, Chicago Cubs, 21.6 WAR), Joe Carter (1981, Cubs, 19.6 WAR), and a host of others.
Sadly, Kolek's wish wouldn't come to pass.
Kolek hasn't had what one would call a "charmed start" to his professional career. After signing a deal to pitch for the Marlins for $6,000,000, Kolek took the field for the rookie-level, Florida-based GCL Marlins, in the Gulf Coast League. He started eight games, coming in to one out of the bullpen and striking out 18 in 22 innings. He posted a 1.59 WHIP with a 4.50 ERA, walking 13 and surrendering 22 hits.
The bulk of Kolek's professional career was gained with the single-A, South Atlantic League's Greensboro Grasshoppers in 2015. He started the season as MLB Pipeline's number 52 overall prospect and Miami's number one. Kolek made 25 rotational starts to rank second on the team, who posted a 51-88 overall record. Kolek went 4-10 with a 4.56 ERA, with 81 strikeouts in 108 2/3 innings. He finished the year with a 1.56 WHIP, surrendering 108 hits and 61 walks.
During 2016 Spring Training, Kolek injured his throwing elbow and landed on the disabled list for well over a season. He received Tommy John Surgery, and did not play until July of 2017. In his first game back, with the GCL Marlins on July 20th, 2017, he walked two, hit a pitcher, and allowed a base hit for four earned runs in 1/3 of an inning. 10 days later, he gave up six runs without collecting an out, on five walks and a hit. Of the 31 batters faced by Kolek in 2017, 14 of them got on via free pass. He went back on the DL for another full calendar year.
"He might not be as advanced as initially thought at the time of the Draft, but the size, stuff and arm strength still gives him top-of-the-rotation potential. – MLB Pipeline, who still had Kolek as the Marlins number two prospect to close the 2016 season."
In 2018, the then-28th ranked MLB Pipeline Marlins prospect Kolek joined the GCL Marlins for a start on July 18th. He allowed a hit and a walk in one scoreless inning. He followed that by allowing four runs in 2/3 of an inning three days later, on four hits and a walk.
More from Marlins Prospects
The Miami Marlins promoted Kolek to the short-season-A Batavia Muckdogs on July 27th, and I can only imagine they were emboldened by the results. Kolek pitched 14 innings over eight relief appearances, allowing 12 hits and only seven walks. He struck out 12 and went 1-2 with a 4.50 ERA.
On September 3rd, Kolek had his best appearance in over three years, striking out three and allowing only one baserunner over three innings in an 8-5 loss to the Auburn Doubledays.
Here's 2080 baseball's highlights of Kolek at instructional league after the 2018 season:
Once considered a slam dunk to make it to the majors, Kolek is no longer ranked on the Miami Marlins prospect list for Baseball America or MLB Pipeline. He's still a project, now starting his sixth professional season. Although he's rule 5 eligible, it's unlikely another team takes him on. Still though, Kolek is only 22-years-old, and the Marlins have invested a lot in him. They won't give up on him easily.
Thanks for reading. Like us on Facebook, follow us on Twitter, and subscribe to our daily newsletter to keep up with the Miami Marlins.