Dakota Bennett: Miami Marlins 2022 Bullpen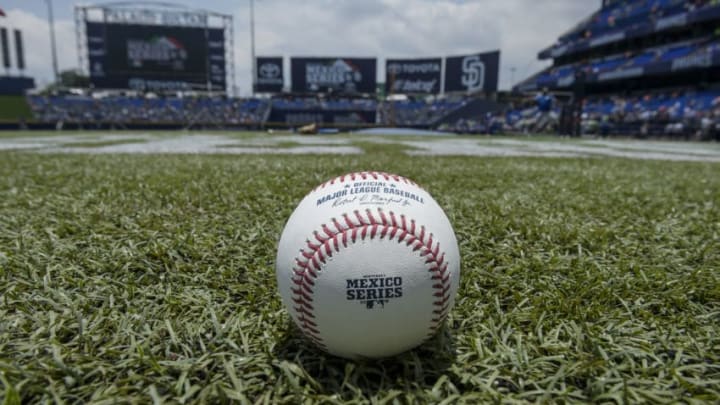 MONTERREY, MEXICO - MAY 06: Detail of the official game ball prior the MLB game between the San Diego Padres and the Los Angeles Dodgers at Estadio de Beisbol Monterrey on May 6, 2018 in Monterrey, Mexico. (Photo by Azael Rodriguez/Getty Images) /
Throughout the 2018/2019 offseason, Marlin Maniac will devote one article each for every player who appeared in the Miami Marlins system for the 2018 season. Every. Single. Player. This is Part 162 of 286. For the first 100, click here.
Dakota Storm Bennett is a 6'2″, 160 lb. lefty-throwing, righty-batting relief pitcher from Somerville, Alabama. Born on July 12th, 1999, Bennett was selected out of Brewer HS in the 11th round of the 2017 MLB Amateur Draft by the Miami Marlins.
Chosen with the 329th overall selection, Bennett's path to the majors would not be unprecedented. Six members of the "329 club" have eventually graduated to the major leagues. Chief amongst them are Jon Gray (2011, New York Yankees, 6.6 career WAR) and Pat Meares (1990, Minnesota Twins, 4.8 WAR).
After getting picked, Bennett signed with the Miami Marlins for a $350,000 bonus, and reported to the Gulf Coast Marlins in the rookie-level, Florida-based Gulf Coast League on July 11th, the day before his 18th birthday.
Bennett started a pair of games for the GCL Marlins that season, and appeared six times in relief. Over eight innings he struck out seven, going 1-2 with a 7.56 ERA.
2018 would begin for Bennett with the short-season-A Batavia Muckdogs, in the New York-Penn League. In three below average appearances, he gave up 21 hits and four walks in 9 1/3 innings for a 2.679 WHIP, striking out nine and going 0-2 with an 8.68 ERA. On July 4th, the Miami Marlins sent him back to the GCL Marlins for additional seasoning.
Bennett was far better for GCL the second time around. In nine games, including seven starts, he struck out 37 in as many innings, going 2-1 with a 1.46 ERA and a 1.054 WHIP. He only walked nine, making for a BB/K rate north of four.
More from Marlins Prospects
On August 12th, Bennett earned his first professional win, starting and pitching five shutout, one-hit, one-walk innings, striking out two in a 6-4 victory against the GCL Nationals. In his final start of the season, 11 days later, he held the GCL Mets to two hits and no walks over five innings, striking out five in an eventual 10-9, 11-innings win against the Mets. After closing the season with a win and a loss following, the Marlins stood at 25-31, 15 games out of the money in the GCL East Division.
For Bennett's part, he showed a lot of progression in the second part of the season, and is primed to rejoin the Muckdogs for another go in 2019. More-or-less normal progression set a timetable for his major league debut sometime in 2022 or 2023.
Thanks for reading. Like us on Facebook, follow us on Twitter, and subscribe to our daily newsletter to keep up with the Miami Marlins.