Adonis Giron Isn't 18 Yet, and He's Already an Ex-Miami Marlins Prospect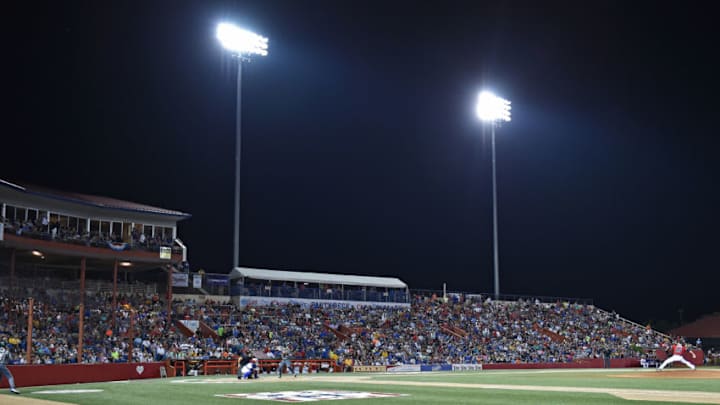 WICHITA, KS - AUGUST 06: Pitcher Tim Hudson #15 of the Kansas Stars delivers a pitch against the Colorado Xpress in the second inning during the NBC World Series on August 6, 2016 at Lawrence-Dumont Stadium in Wichita, Kansas. (Photo by Peter Aiken/Getty Images) /
Adonis Giron had a solid professional debut with the DSL Marlins in 2018. What better fate than to trade him away – to the Houston Astros.
This offseason, we're checking out every player to appear at any level of the Miami Marlins system in 2018. Giron is the 262nd player I've written about since the close of the season, out of 286 total.
Adonis Daniel Giron is a 5'10", 190 lb. right-handed hitting and throwing right fielder from Santo Domingo, Dominican Republic, population 965,040. There have been 177 players native to the city, including current Miami Marlins Jose Urena and Jarlin Garcia.
Giron was born on February 22nd, 2001, and signed his first professional deal with the Miami Marlins on July 2nd, 2017. A year later, he made his pro debut with the rookie-level DSL Marlins, in the Dominican Summer League.
Giron tied for the DSL Marlins team-lead by playing in 67 games, the same as like-aged Julio Machado and Dalvy Rosario. Giron didn't lead the team in any offensive categories aside from triples (he had three). He slashed .255/.331/.362 over 279 plate appearances, with three homers and a team-second 30 RBI. He also ranked fourth on the team with 12 stolen bases, although he got caught eight times.
More from Marlins Prospects
Fifteen times, Giron collected multiple hits through the season, including on August 3rd, when he hit three singles and scored twice in a 7-0 victory against the DSL Astros. I guess the Houston Astros organization was paying attention that day, because 10 weeks later they traded for him.
On October 16th, 2018, the Houston Astros traded "future considerations" to the Miami Marlins for Giron and LHP Brayan De Paula. Giron is currently rostered with the DSL Astros, but could easily start the season with their Florida-based, rookie-level GCL Astros in the Gulf Coast League or with the Tri-City ValleyCats in the short-season-A New York-Penn League.
I'm of the mind that the Miami Marlins parted ways with Giron too soon. After all, they could have traded anyone for "future considerations." In this case, the considerations the Miami Marlins received was cash money for their international bonus pool. It allowed the Marlins freedom to sign both Mesa brothers, Victor Victor Mesa and Victor Mesa Jr. In the long term, it may pay serious dividends in the fortunes of the parent club, but I still liked Giron for the Marlins in 2025.