Edward Cabrera's 2018 Miami Marlins Season Review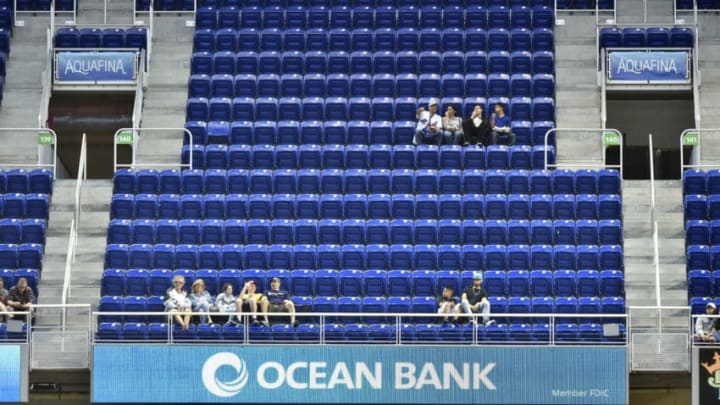 MIAMI, FL - APRIL 11: Fans sitting in the stands during the game between the New York Mets and Miami Marlins at Marlins Park on April 11, 2018 in Miami, Florida. (Photo by Eric Espada/Getty Images) /
Pitcher Edward Cabrera is currently the seventh rank prospect in the Miami Marlins system.
Throughout the 2018/2019 offseason, us bloggers over here at Marlin Maniac (just me, Kevin, really. David does other stuff) are going over the 2018 roster with a fine-toothed comb. Cabrera is the 261st part of a planned 286 part series on every player to appear in the Miami Marlins system in 2018.
Edward Brany Cabrera is a 6'4″, 175 lb. right-handed hitting and throwing pitcher from Santiago, Dominican Republic, population 550,753. Seventy-six major leaguers got their start in Santiago, including Carlos Gomez, Joaquin Benoit, and Carlos Villanueva.
Born on April 13th, 1998, Cabrera signed his first professional deal with the Miami Marlins on July 2nd, 2015 for a $100,000 bonus. His first professional assignment would see him join the GCL Marlins, in the Florida-based, rookie-level Gulf Coast League for the 2016 season.
In 11 games, including seven starts for the rookie-squad, Cabrera was 2-6 with a 4.21 ERA and only 28 K's in 47 innings. Opponents collected a 1.362 WHIP while slashing out a .289/.328/.385 line over 201 plate appearances. Whatever sort of impression Cabrera left on the parent club was enough to justify a promotion for the 2017 season. Here he is with the Greensboro Grasshoppers in the single-A South Atlantic League in 2018, courtesy of 2080 Baseball.
2017 would see Cabrera open the year with the short-season-A Batavia Muckdogs, in the New York-Penn League. In 13 games, including six starts, he struck out 32 batters in 35 2/3 innings. He was 1-3 overall with a 5.30 ERA and a 1.402 WHIP and an opponents slashline of .286/.345/.422. According to MLB Pipeline around that time:
"A tall and projectable right-hander, Cabrera's velocity continued to tick up in the New York-Penn League, where he reached 101 mph with his fastball while working anywhere from 95-100 mph. He's consistently around the zone with the pitch, especially when pitching in the mid-90s. His slider shows the makings of becoming an above-average pitch, complementing his heater nicely, and he also features a changeup that improved in 2017. Already a strike-thrower, Cabrera projects to have average control and command once developed. – MLB Pipeline"
More from Marlins Prospects
In 2018, Cabrera continued his march up the Miami Marlins minor league chain with a full season with the Grasshoppers. He put up the largest sample size of his career thus far, joining the rotation for 22 starts and pitching 100 1/3 innings. Cabrera struck out 93 batters and put up a 4.22 ERA with his 4-8 record. A 1.465 WHIP and a .270/.351/.396 slashline were the yield of his efforts, although he had a lot of bright spots mixed in.
On April 16th, Cabrera held the Lakewood BlueClaws off the board for six innings of no-hit ball in an eventual 1-0 one-hit victory. Cabrera went seven scoreless innings for a complete game shutout victory on May 20th, striking out five in an 8-0 triumph over the BlueClaws.
Currently rostered with the single-A Clinton LumberKings in the Midwest League, at the same level as the Grasshoppers, Cabrera should start the campaign one step up. That's the high-A Jupiter Hammerheads in the Florida State League.