Batavia Muckdogs Down to the Wire: Miami Marlins Farm Report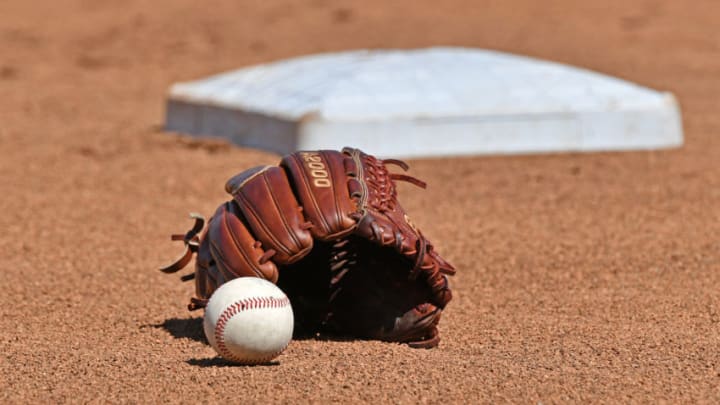 Omaha, NE - JUNE 24: A general view of a baseball and glove in the the field, prior to game one of the College World Series Championship Series between the Michigan Wolverines and Vanderbilt Commodores on June 24, 2019 at TD Ameritrade Park Omaha in Omaha, Nebraska. (Photo by Peter Aiken/Getty Images) /
The Miami Marlins farm system has long been a noted weakness of the team, but it's become a strength in recent months.
Most notably evident amongst the Miami Marlins improved farm system is the Batavia Muckdogs. A short-season-A, New York-Penn League affiliate, the Muckdogs sit 1/2 game in front of the difficult Pinckney Division with eight games remaining.
At 37-31, the Muckdogs are alone in the division amongst those who control their own destiny. They're guaranteed a playoff berth if they win all of their remaining games. Next up on their slate, two against the Williamsport Crosscutters (28-39, Philadelphia Phillies), then three each against the West Virginia Black Bears (36-31, Pittsburgh Pirates), and the Auburn Doubledays (25-42, Washington Nationals).
Most importantly, of course, is their three-game set opposite the Black Bears, who are the only ones with a real chance of surpassing the Dogs. If both clubs win all remaining non-common games, and the Muckdogs defeat the Bears in at least two-of-three, Batavia will carry the division. The eventual second place club will be hard pressed to claim the wild card, as they sit two or more games behind three of the four teams in the McNamara Division. The Aberdeen IronBirds (Baltimore Orioles), Brooklyn Cyclones (New York Mets), and Hudson Valley Renegades (Tampa Bay Rays) are in a three-way tie for first in that division, at 38-29.
The last time the Muckdogs were in the playoff picture was in 2010, when they were dismissed in the NYPL semi-finals. Two years prior to that, they were the NYPL Champions, when they defeated the then Miami Marlins-affiliated Jamestown Jammers, four-games-to-one. For both playoff runs, the team was a St. Louis Cardinals affiliate.
For the last seven years, the Muckdogs have been a Miami Marlins feeder team. The 2019 campaign will be Batavia's first winning season since their first with the Marlins, when they were 39-36 back in 2013.
The current incarnation of the Muckdogs is led by center fielders J.D. Orr and Milton Smith II. Orr is slashing .382/.496/.452. Let me emphasize this – he's reaching first base in 49.6 percent of his plate appearances, and when he gets to first, he's stolen 27 times in 57 games. His average leads the NYPL by 14 points, and he's almost 50 points ahead of the fourth place guy. Smith is hitting .306 with 19 stolen bases in 24 attempts.
More from Marlins Prospects
The most major-league ready of the prospects in Batavia is likely the Air Force Academy's Nic Ready, who is hitting .266/.314/.506 thanks to an NYPL-leading 27 doubles. That's like, 60 doubles when extrapolated over a 162 game season. He's also fourth in the circuit with nine round-trippers.
On the hill, the Muckdogs have a lot of firepower as well. Josh Simpson was named to the NYPL all-star team with a 1-0 record, a 1.40 ERA, 0.78 WHIP, and 22 K's in 19 1/3 innings. Fellow reliever Brock Love has struck out 23 in 18 1/3 innings while giving up only nine hits. Starter Julio Frias is 4-3 with a 2.82 ERA, along with a 1.20 WHIP and 66 whiffs in 60 2/3 innings.
This season's Batavia Muckdogs is as much bite as they are bark. Look for them to nail down a division title here in the coming week, and thanks for reading.
Like us on Facebook and follow us on Twitter. Subscribe to our daily newsletter as well, to keep up with the Miami Marlins.