Miami Marlins Prospect Peyton Burdick; Midwest League POTM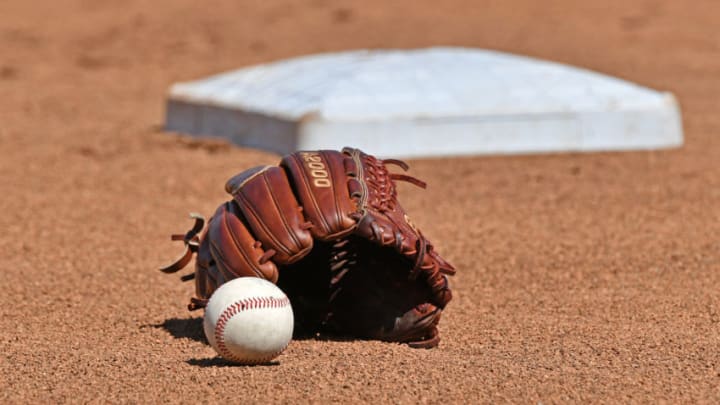 Omaha, NE - JUNE 24: A general view of a baseball and glove in the the field, prior to game one of the College World Series Championship Series between the Michigan Wolverines and Vanderbilt Commodores on June 24, 2019 at TD Ameritrade Park Omaha in Omaha, Nebraska. (Photo by Peter Aiken/Getty Images) /
Miami Marlins prospect Peyton Burdick was recently named the Midwest League Player of the Month.
Peyton Burdick is a 6′, 210 lb. outfielder from Wright State and the Miami Marlins third round selection in this season's MLB Amateur Entry Draft. You can follow Burdick on Twitter at @Pburd88.
Burdick's short professional career has already had more than an even share of highs. After going seven-for-22 in a six-game look at the short-season-A level with the Batavia Muckdogs in the New York-Penn League, Burdick was promoted to the single-A Clinton LumberKings in the Midwest League. Since that time, he's slashed out a robust .308/.407/.542 line, with 11 homers and 64 RBI in 69 games.
Burdick stepped up his already prodigious production in the month of August, slashing .330/.457/.626 with six round-trippers and 30 RBI in only 25 games. He did more than his part in getting the LumberKings into the MWL postseason, which starts tomorrow. The following video is courtesy of 2080 Baseball:
Burdick, a 22-year-old Batavia, Ohio native (not to be confused with Batavia, New York) just completed his junior season at Wright State with a .395 average and 13 moonshots in 56 games. More impressively, he drew 60 walks versus only 34 strikeouts. The Miami Marlins had to instantly know they hit the jackpot when he was still available after 81 picks had come and gone. He eventually signed with the franchise nearly 50 percent below his slot value.
Currently ranked 29th on the MLB Prospect Pipeline, Burdick is praised for both offensive and defensive tools:
"Thick and muscular at 6 feet and 210 pounds, Burdick moves well for his size. He has fringy to average speed and is aggressive on the bases. A potential average defender on either outfield corner, he has spent much of his pro debut in left field but his solid arm would fit well in right."
More from Marlins Prospects
Burdick's willingness to sign on the dotted line at a discount illustrated a willingness to get into the game quicker, and also allowed the Marlins added leeway in signing each of their top dozen picks. Burdick's path to the major leagues is perhaps easier in such a top-light organization as the Miami Marlins, although the minor leagues are jam-packed with top prospects.
Although the Clinton LumberKings regular season is now over, they'll commence the playoffs tomorrow night at 7:30 PM ET when they host the Kane County Cougars in game one of a best-of-three series. Burdick, no doubt, will be in his customary position in left field, where he started in 59 games for the Kings.
Follow us on Twitter and like us on Facebook. Subscribe to our newsletter while you're at it, and as always, thanks for reading.