Miami Marlins Prospecting: Miguel De Los Santos' 2019 Review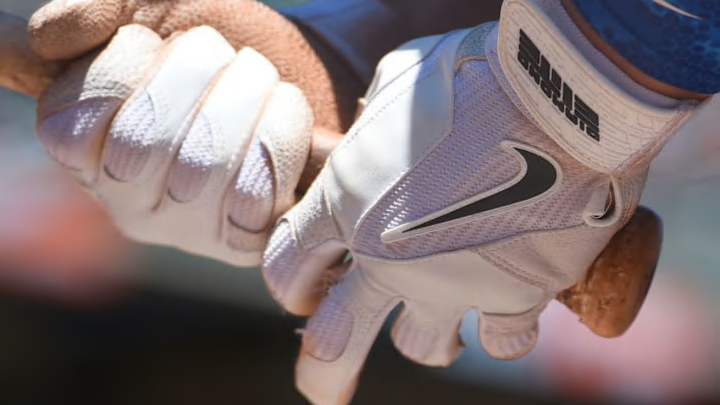 SAN FRANCISCO, CA - MAY 11: A detailed view of Darwin Barney #18 of the Toronto Blue Jays wearing Nike batting gloves working on the handle of his bat in the on-deck circle against the San Francisco Giants at AT&T Park on May 11, 2016 in San Francisco, California. (Photo by Thearon W. Henderson/Getty Images) /
Miguel De Los Santos just completed his third professional season, all at the rookie level.
Miguel De Los Santos actually signed on with the Miami Marlins through minor league free agency way back in July of 2015, when he was 18-years-old. A 6'1″, 175 lb. right-handed pitcher, he was born on September 27th, 1996 in San Gregorio de Nigua, in the Dominican Republic. The municipality of the San Cristobal district, population 40,589, has never produced a major leaguer.
De Los Santos is still many years away from contributing at the major league level, if ever. A best-case timetable sets his major league debut in 2024 – but stranger things have happened.
After signing, De Los Santos made his professional debut with the DSL Marlins in the rookie-level Dominican Summer League in 2016, where he struck out 27 in 39 1/3 innings while racking up a 2.75 ERA.
After that solid showing, the Miami Marlins gave him a lateral promotion in 2017 – to the GCL Marlins in the Gulf Coast League. In 13 games, including four starts, he was 3-1 with a 3.65 ERA and 38 K's in 44 1/3 innings. De Los Santos spent the entire 2018 campaign on the disabled list, and didn't resurface in an organized non-intrasquad game until the 2019 season.
De Los Santos reemerged on June 26th of this season with the GCL Marlins, when he struck out five over 2 2/3 innings in the Marlins 3-2 win against the GCL Nationals. He went on to pitch in a total of nine games for GCL, allowing at least a run in every one and at least two in all but two of them. He had a pretty good outing on August 7th, when he gave up just one run in three innings of work, striking out four but taking the 5-4 loss to the GCL Cardinals. Shuffled back to DSL for his last appearance of the season, he took a 5-4 loss against the DSL Athletics on August 20th without allowing an earned run or a hit in his inning of work.
More from Marlins Prospects
In total, De Los Santos racked up a 1-7 record between the two levels of the Miami Marlins rookie level this season, with a 6.49 ERA and a 1.62 WHIP. Opponents hit .322 against him, and he collected 32 whiffs in 34 2/3 innings.
So although most of De Los Santos' metrics were diminished from his past seasons, his strikeout rate has steadily climbed through his three full campaigns. That fact notwithstanding, it's hard to see a future in affiliated ball for De Los Santos past this season. If he's retained, look for him in 2020 with the GCL Marlins, or with the short-season-A Batavia Muckdogs in the New York-Penn League.
Thanks for reading. Follow us on Twitter, like us on Facebook, and subscribe to our daily newsletter to keep up with the Miami Marlins.