Luis Lopez' 2019 Miami Marlins Review: Control Master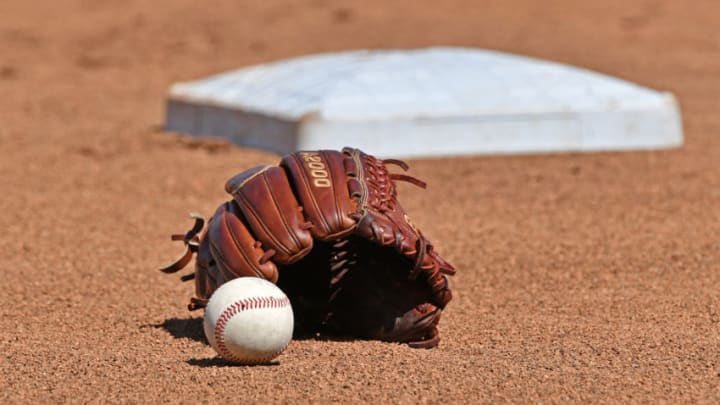 Omaha, NE - JUNE 24: A general view of a baseball and glove in the the field, prior to game one of the College World Series Championship Series between the Michigan Wolverines and Vanderbilt Commodores on June 24, 2019 at TD Ameritrade Park Omaha in Omaha, Nebraska. (Photo by Peter Aiken/Getty Images) /
Luis Lopez led the DSL Marlins by walking only 1.1 batters per nine innings.
What's more impressive is that he did it all before turning 18-years-old. Luis Lopez will celebrate his 18th tomorrow. A Las Tablas, Panama native, Lopez signed with the Miami Marlins through free agency on July 2nd, 2018. Former major leaguer Randall Delgado (Atlanta Braves, Arizona Diamondbacks) also originated out of Las Tablas, and Lopez aims to be the second from the city to make it.
For his first professional look, Lopez started and allowed three unearned runs while striking out two in two innings of an 8-3 win over the DSL Braves on June 5th. In his next appearance, out of the bullpen, he pitched 2 1/3 scoreless innings with another two strikeouts in an 11-4 loss to the DSL Dodgers Bautista on June 21st. He earned his only win of the season on July 16th, in a 20-8 decision against the DSL Rays1. Lopez pitched the final 4 2/3 innings while striking out three, walking zero, and allowing one run on three hits.
Lopez probably posted his best showing of the season on July 27th, when he earned no decision but struck out six batters in five relief innings in a 6-5, 12-inning loss to the DSL Braves. Lopez walked allowed one run on four hits and a walk.
More from Marlins Prospects
Lopez is not yet polished. Although he only walked five batters in 42 1/3 innings, he also hit five batsmen. Opponents also hit .262 against him. Hardly all-star material, but when combined with his microscopic walk rate, his WHIP results in a strong 1.16 mark. Lopez was 1-2 with a 3.61 ERA and 26 whiffs for the DSL Marlins.
The long-range outlook for Lopez is unclear. Like I said, he's still just 17-years-old. The earliest we could expect to see him with the big boys is around 2024, but he's more likely to arrive in 2026 with the right seasoning.
In the meantime, look for Lopez to begin his 2020 season back with the DSL Marlins for another round. Thanks for reading. Follow us on Twitter, like us on Facebook, and subscribe to our daily newsletter to keep up with the Miami Marlins.