Marlins: The prospect with the most to gain in Spring Training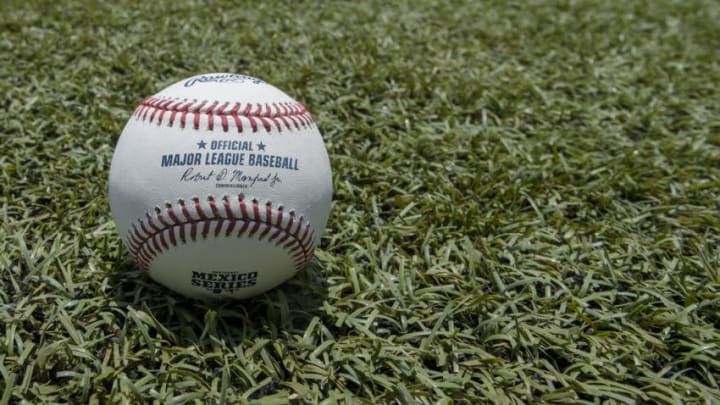 MONTERREY, MEXICO - MAY 06: Detail of the official game ball prior the MLB game between the San Diego Padres and the Los Angeles Dodgers at Estadio de Beisbol Monterrey on May 6, 2018 in Monterrey, Mexico. (Photo by Azael Rodriguez/Getty Images) /
Can one of the many Miami Marlins prospects make it to the Major League roster this spring and help change the fortunes of the franchise?
Even with all the changes the Miami Marlins made this offseason to it's 40-man roster, the fact still remains this organization is still committed to building a franchise through it's minor-league system.
Now in the third season of this rebuilding project, the front office will sit back and watch to see which prospects make the leap from being potential stars to hopefully leading this team toward the 70-win plateau.
Derek Jeter, Michael Hill and manager Don Mattingly will all hold their breath collectively.
There is plenty to talk about as Miami heads towards spring training in Jupiter Florida in the next week. The pitching staff is better. There is more power in the middle of the lineup. The bench should be deeper. The bullpen should be stronger and wins should be more attainable.
It makes for an interesting season in 2020. But if prospects cannot make the transition effectively, it could be another long here. The staff here at Marlin Maniac took the time to talk about which minor-league prospect we believe has the most to gain in Spring Training. Here are a few of our thoughts.
Kevin Kraczkowski – I think the one player on the Marlins who could make the most out of a strong showing in Spring Training is likely Monte Harrison. I think he's just a .320 spring away from a spot on Miami's Opening Day roster.
Plate discipline has ever been an issue for Monte, as it has been for all three position players that Miami received in the [Christian] Yelich deal two years ago. If he can homer in five percent of his PA's, while keeping his K% below a quarter, he's likely to win the job as the fourth outfielder or maybe even as the OD (opening Day) centerfielder.
More from Marlins Prospects
David Fernandez – With the Marlins having an open spot in center field, Harrison has the most to gain in spring training. He would likely have been a September call-up last season had it not been for a wrist injury while playing in Triple-A. In 2019, Harrison hit .274 with a .357 on-base, nine homers and 24 RBI in 56 games.
The Marlins have brought in a ton of talent for the outfield, but Corey Dickerson, Matt Kemp and Matt Joyce are all corner outfielders. Harrison will battle with Lewis Brinson, Magneuris Sierra and Harold Ramirez for time in center. A good spring could see the 24-year-old Harrison lock down the position.
David Levin – What if I told you that I have a sneaking suspicion that Edward Cabrera will be the best pitcher to come out of this next group of Marlins prospects?
And what if I told you that I believe the reason why the Marlins front office felt secure in trading Zac Gallen to Arizona was because they felt Sixto Sanchez and Cabrera we're going to be better in the future?
This is purely speculation, but there may be some truth to it as well.
There's no secret that the Marlins have done the right thing by acquiring plenty of young pitching depth. It's what the front office and coaching staff decided to do with these youngsters that will make this organization a winner in the future. As Cabrera comes to camp, he is firmly entrenched as the number two pitching prospect in the organization. But when he makes his initial visit to Marlins Park is unknown.
Just like Nick Neidert last season, Cabrera has a chance to leave an indelible mark the Marlins will take note of and he could be the second arm brought up from the minors behind Neidert this season.
FanSided 250
Fansided250 Logo
Where does your fandom rank?
See 2019 Rankings