Do the Miami Marlins have too much talent in their minor league system?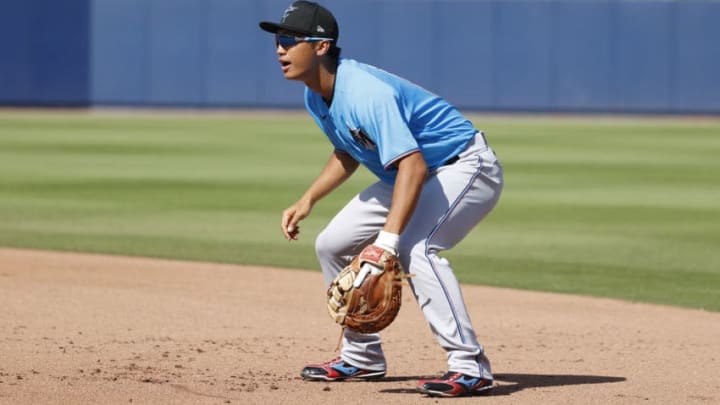 WEST PALM BEACH, FL - MARCH 04: Gosuke Katoh #81 of the Miami Marlins plays defense at first base in the seventh inning of a Grapefruit League spring training game against the Houston Astros at The Ballpark of the Palm Beaches on March 4, 2020 in West Palm Beach, Florida. The Marlins defeated the Astros 2-1. (Photo by Joe Robbins/Getty Images) /
Has it gotten to the point that the Miami Marlins plan to build from the foundation up has caused an overload of minor league talent?
As we have watched the Miami Marlins turned a corner this spring, proving that they are not going to be pushovers in the National League East this season, is it fair to say this is an organization that is bursting with young talent that must learn to play consistent baseball on a regular basis in the future?
If so, then the Marlins will be the ones teams are chasing for playoff berths and potential World Series titles over the next decade. It's a big prediction with little to back up my claims, but as I watch and learn and see the "process" Derek Jeter asked everyone to believe in, the results will come in time – possibly sooner than later.
But there could be "issues" with the changes Jeter and his front office have made concerning talent and where everyone fits in the master plan. Is it also fair to say that in the next year or two the franchise is going to have major decisions to make as players rise through Miami's feeder system with no place to go?
More from Marlins Prospects
Are fans looking at the beginning of a problem with the Marlins, one that is a good one to have? But it also begs many questions about what happens to all of these players the team has accrued in the past three seasons.
Are the Marlins overloaded with talent, and if so how soon will it be before Jeter and team president of baseball operations Michael Hill look to play game show hosts on "Let's Make A Deal?"
If the Marlins Major League roster comprises of 13 position players and 13 pitchers, who stays and who goes?
It's one of the reasons why manager Don Mattingly has been preaching versatility. It's one of the reasons why the past two seasons he has picked players for the roster who could play multiple positions. This season is a little different because Miami did it's due diligence to bring in veterans in free agency and Hot Stove that could help balance the youth and inexperience this team has suffered through.
The mark of a good team in any sport has to do with which players are good enough to play every day but either sit on the bench or want to be traded because there is no space for them. This might be the first year that we see multiple talented players exit Jupiter, Florida for other pastures. It could also mean that the front office will work out a deal or two that brings in more prospects.
A continuing cycle, indeed. And don't be surprised if Hill announces Miami will unload some of their talented young pitchers because not everyone can play in South Florida at once. Teams made inquiries all offseason to see who could be had, but there were no transactions completed.
I'm not sure this was what Jeter had in mind when he developed his blueprint of building the team from the foundation up. There is nothing wrong with having too much talent, but in this case, whoever makes the 26-man roster must help the Marlins find their way towards more wins and more stability.
There are a handful of days left until everything counts. Mattingly must pick an Opening Day starter (Sandy Alcantara). He must determine who the closer will be (Brandon Kintzler). Who will be on the bag at third base (Brian Anderson) as well in right field (Matt Joyce)?. Most of all this is a team they must recover from another 100-loss season and 2019.
Miami must show improvements in all facets of the game this coming season. Failure to do so will result in the same kind of turnout fans have grown accustomed to. When Jeter and Mattingly talk about this team moving forward, it's not just in the win column. It's through hard work on every level in the minors and players coming to camp willing to make sacrifices to earn victories.
The Marlins must find a way for the minor-league prospects and the veterans already on the roster to work together instead of being a bunch of individuals with their own agenda this coming year.
So far, the plan as worked. Now, we get to see who will remain as part of this accelerated process in 2020 and beyond.