Miami Marlins: The contraction of minor league baseball teams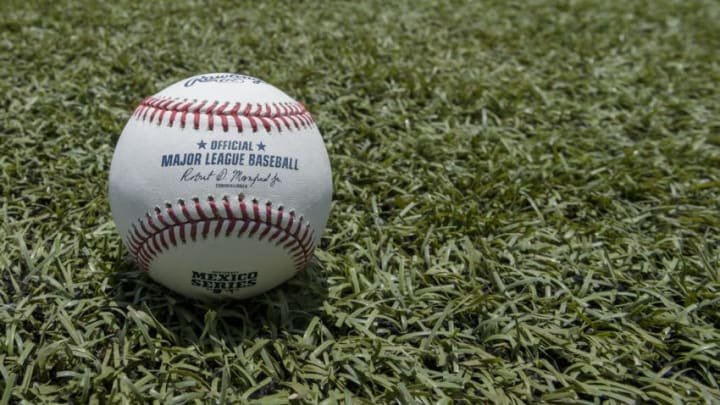 MONTERREY, MEXICO - MAY 06: Detail of the official game ball prior the MLB game between the San Diego Padres and the Los Angeles Dodgers at Estadio de Beisbol Monterrey on May 6, 2018 in Monterrey, Mexico. (Photo by Azael Rodriguez/Getty Images) /
Two of the Miami Marlins minor league teams could be on the chopping block when MiLB reduces affiliates from 160 to 120 if a proposed agreement is reached with MLB.
Only a few short months ago, minor league teams were gearing up to fight MLB over a proposed plan to cut back the number of teams affiliated with the 30 Major League teams. Now, MiLB is feeling the effects of the financial crunch from the Coronavirus and has agreed in principle to a move that will eliminate 40 teams, potentially two from the Miami Marlins minor league system.
"Per J.J. Cooper of Baseball America, "The world has changed dramatically over the past six months, especially now that the coronavirus pandemic has halted sports. When MLB and MiLB negotiators convene on a teleconference on Wednesday, multiple sources with knowledge of the negotiations say MiLB will indicate that it agrees to 120 affiliated teams in a new PBA."
The Miami Marlins affiliates in Batavia and Clinton were originally on the proposed list of teams that were to be cut. There is no word yet if the two teams will remain part of the death sentence. Minor league baseball, like MLB, is still awaiting word of when teams can resume practice and preparation for the 2020 season. Right now, everything is still on hold due to the fears brought on by the COVID-19 pandemic that holds the sports world and the globe within its clutches.
More from Marlins Prospects
""While the exact details of timetables and funding mechanisms need to be worked out, both sides agree on the need to adopt improved facility standards," Cooper adds. "MiLB has signaled its understanding that the current Player Development Contracts by which minor league teams and parent organizations reach affiliation agreements will be modified to give MLB teams greater control over choosing their affiliates. MiLB has indicated a willingness to work with MLB on shortening travel and improving the geographical cohesiveness of leagues.""
There has been no word from the Miami Marlins, CEO Derek Jeter or president of baseball operations Michael Hill regarding the proposal.
Right now, the concentration on the game is actually playing them in parks where safety is the main concern. Everything associated with the game has been shutdown and there is still no timetable as to when baseball operations will begin in full. The Major League office has been working to propose a plan to play games in various sites and states with the idea of a safe work environment. The minor league system is in the same process.
The Marlins and other MLB teams face challenges for the upcoming season which include potential realignment and a shortened schedule for 2020.
The Batavia Muckdogs have been the Short-Season Class-A affiliate of the Miami Marlins since 2013. They have been part of minor league baseball since 1939. Clinton became the Marlins Single-A affiliate just last season after the organization ending its relationship with Greenville.