Miami Marlins farm system receives high ranking following MLB Draft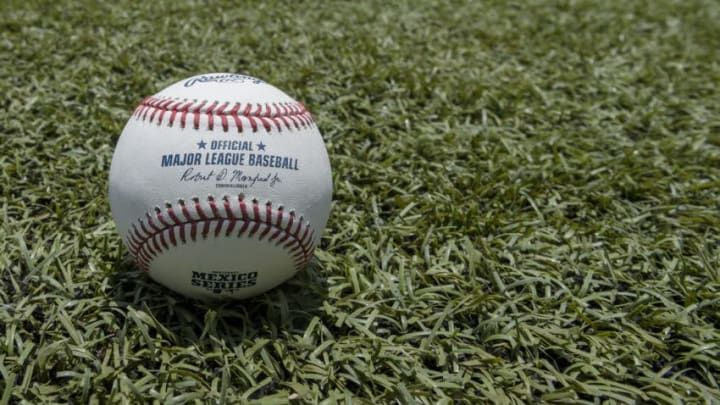 MONTERREY, MEXICO - MAY 06: Detail of the official game ball prior the MLB game between the San Diego Padres and the Los Angeles Dodgers at Estadio de Beisbol Monterrey on May 6, 2018 in Monterrey, Mexico. (Photo by Azael Rodriguez/Getty Images) /
Following a solid MLB Draft class, the Miami Marlins farm system is praised as one of the best by Bleacher Report.
It's a week following the MLB Draft and analysts across baseball's canvas are still praising the Miami Marlins front office for a job well done. The six pitchers – yes, it's still a shock to see – the Marlins netted over last Wednesday and Thursday night will hopefully become fixtures in the team's minor league system on their way to making their MLB debut at some point.
The work that president of baseball operations Michael Hill, team CEO Derek Jeter and the Marlins farm director DJ Svihlik did to scout players they felt could best help the team continue to prove the "blueprint" this organization is following will have some success.
The strength of Miami's minor league system continues to be young arms that are developing and the depth of pitching at each level of the farm. How Jeter's plan has helped to build one of the better farm systems is still a conversation in the making. Joel Reuter of Bleacher Report wrote about the Marlins minor league system and the 29 other teams and where they stand following the MLB Draft.
More from Marlins Prospects
Thanks to continual progress, the Miami Marlins are fifth overall. The Atlanta Braves are the highest-ranked National League East team, third overall.
""The Miami Marlins went with the high-octane arm over the sure-thing MLB starter when they chose Max Meyer over Asa Lacy at No. 3 overall, and time will tell if they come to regret that decision," Reuter writes. "With a fastball that touches 100 mph and a filthy wipeout slider in the low 90s, Meyer could probably close games at the MLB level right now. Will he stick as a starter?""
The talent Meyer possesses is impressive enough that he jumps into the mix as the Miami Marlins seventh-ranked prospect. Five of the team's first 10 prospects are pitchers, who are knocking on the door at the Major League level.
""Regardless, he's [Meyer] another high-ceiling addition to a system on the rise. Sixto Sanchez, Jesus Sanchez and Jazz Chisholm were all acquired via trade in 2019, and a return to health for 2016 No. 7 overall pick Braxton Garrett provides further reason for excitement," adds Reuter."They're building toward something good here; it's just going to take some patience.""
The Marlins have been patient in bringing their young arms along slowly. At some point soon, there will be some tough decisions on which pitchers make the Majors and which ones stay within the organization.